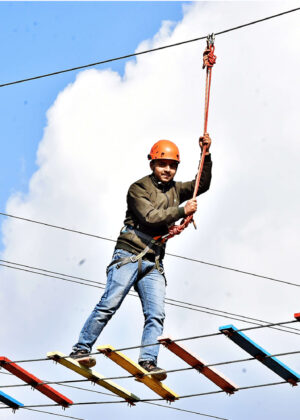 Sky Walk Adventure Activity in Mussoorie
Sky Walk adventure activity in Mussoorie is a must try for adventure loving people. Explore Mussoorie Adventure Park, India's Top Ranked Adevnture park's Sky Walk activity. Experience adrenaline-pumping adventure. Safety measures ensured by professional instructors. The activity will be around 10 - 12 min, walking on the bamboo and sequence of ultra-strong wires & cables attached by a harness around the waist.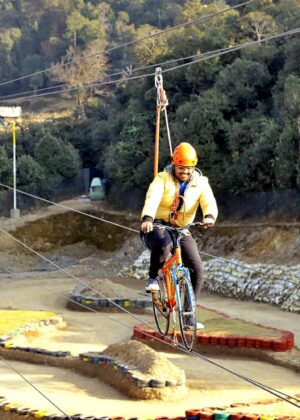 Rope Cycling Adventure Activity in Mussoorie
Rope Cycling Adventure Activity is a part of flying fox adventure activity. It might look simple, but to balance the cycle will need to be ultra focused. Mussoorie Adventure Park Offers some of the most exciting and thrilling adventure activities in Uttarakhand, India. Flying Fox rope cycling can be one of the craziest yet toughest categories of adventure activities. This type of activities requires a lot of concentration. Mussoorie Adventure Park has 2 Unique and thrilling Sky Cycling activity.
Zipline Adventure Activity in Mussoorie
Live a great mini zipline experience through a beautiful way and fly like a bird. The zipline experience will give you a unique perspective, combining heart-pounding thrill and a view that passes by your sight in a zoom. Make sure to enjoy every second or this jaw-dropping zipline scenery would pass crazy awesome fast. Experience the best zipline in India only at Mussoorie Adventure Park.